Slovak can be fun, even for foreign students!
We have created a new section, especially for foreign-speaking children, to make it easier for them to learn the language. 

You will find the mentioned section FOR FOREIGNERS in the Levebee application under the subject SLOVAK.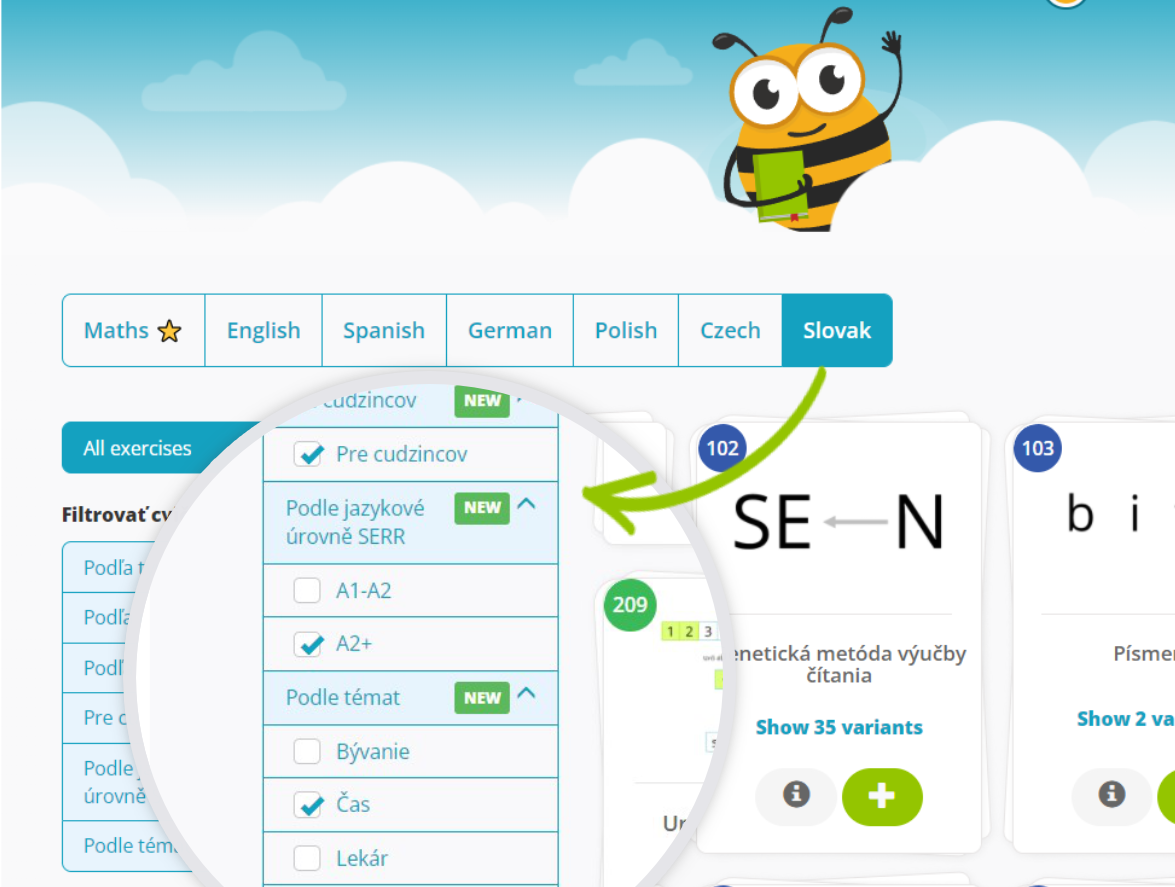 How does the Levebee app help with teaching Slovak as a foreign language? Levebee offers:
 over 100 types of exercises for practising vocabulary, correct pronunciation, listening and reading;
 a wide range of settings including current topics that allows adjusting each exercise to the individual needs of the student;
 a list of exercises based on the initial diagnosis of readings skills, and therefore tailored to the individual needs of each student;
 access to group lessons on a projector and individual exercises on a computer/phone at home;
 more than 10,000 audio recordings of words available (dubbed under the supervision of an experienced speech therapist);
 recording of students' pronunciation using a microphone and comparing it with the correct one;
 your own exercises with vocabulary tailored to the student / thematic plan;
 fun exercises that will boost student's motivation, engagement, as well as, help teachers connect with their pupils.
Try the Levebee app for FREE 
Feedback from schools and homes!
"We use the Levebee app not only in the normal teaching of the Slovak language, but it has also worked great in working with pupils with a different mother tongue. Thanks to Levebee we can motivate first and second graders to read and work with text. With her help, we practice selected grammatical phenomena with older pupils. A lot of images come very handily when we´re working with foreign pupils because they help them expand their vocabulary. However, the Levebee has another big advantage - it helps us not only with reading but also with the development of auditory perception (for example, correct pronunciation, length of vowels, etc.).
Across our school, we know that: Levebee is our friend and she's learning with us." 
-- teacher Jana M.,  --


"I teach a boy of foreign nationality and after the schools closed there was a big problem when I couldn't help him personally and was only available to him remotely. I was looking for something that he could practise with comfortably, improve himself and have fun at the same time. The Levebee is perfect for this! Thank you for your willingness to help during online learning! This is a great help for us educators and assistants! "
-- teaching assistant Jana J., --


"I work with foreign children in preschool and primary school. I have been using Levebee for a long time for entertaining language development. The app does not overwhelm the student with information or excess vocabulary, which is great. I was helping my clients during the online learning through Levebee app."
-- a teacher of Slovak as a foreign language Katka F.,  --


"I love Levebee! Every exercise has many levels that are changing manually or automatically according to the child's improvement and that is amazing. Children love some exercises more than others but Levebee deserves 5 out of 5 stars. We have bought the licence twice. Once children learn how to work with the app they can do most of the exercises on their own. I appreciate receiving an email with a progress chart once a week. "
-- mother Markéta G., --
Levebee for all ages!
Although Levebee's art style is fun and playful it doesn't mean older students or adults can't use it!  Levebee is a great source of materials that are fun and educational at the same time.


Are there pupils with a different mother tongue in your school or kindergarten?
Gain unlimited access to the Levebee app for an unlimited number of teachers and pupils by starting your 30-day free trial. 

Contact us by email or phone below to get the non-binding trial period started. Contact us by email or phone below to get the non-binding trial period started.
Eva Ryšánková
support@levebee.com